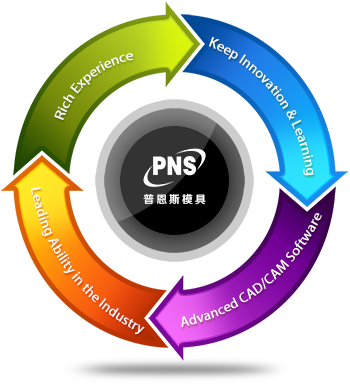 PNS at a glance:
Established in 2012 with 1000㎡ for land area, 7000㎡ for building area
Total employees: Over 150 employees
Annul Capability: Over 3500 sets mould bases
Kunshan PNS Mold Co., Ltd was established by Mr. Yang, who has been in the industry for more than 20 years. Located in Qiandeng Yanhu Industry Area, Kunshan, very next to Shanghai. We specialize in manufacturing mold bases as the standard of DME and HASCO, also skilled in producing high precision & challenge mold bases, such as two shots, multi-cavities mold base, etc.  The table below is our main business.
NO.

Type

Classification

1

Precision Plates

Plastic Mould Base

Die-Casting Mould Base

Cold-Punching Mould Base

2

Precision

Tooling Component

Straight guide pillar, Guide bush, Locating rings, Return pin, etc.

3

Mould Steel

Groditz, Industeel, Kind & Co,Domestic high-quality mold steels
We value teamwork, and with our skilled and experienced staff, you can be sure we are the best company for you. We can manage your project from start to finish, beginning with concept drawing through assembly and completion of your final product. We use a combination of CAD/CAM software to rapidly address and document the design and engineering process. Shared knowledge in the shop allows each employee to maximize their potential as we continually upgrade our equipment and software, ensuring that our use of latest technology is supported by a qualified team of precision machine and software suppliers. Also ISO 9001:2008 Quality Management System being  makes us be able to meet or exceed customer expectations in every delivered product. 
We measure our success in Customer Satisfaction!